2001 Mountain Adventure at Pine Creek Canyon
(To enlarge image click on picture. Click return to come back to this page) Return to Mountain adventurer index page
The Mountain Adventurer 2001 trip was to Pine Creek Canyon, 25 miles northwest of Bishop California, 24 to 27 August. . The group
included George, Steffanie, Don, Jimmy, Jim, Sharon, Chris, Nicole, Eduardo, and Ricardo.
The Pine Creek Pack Station provided the pack animals and packer to get our gear into
the camp at Lower Pine Creek Lake at an elevation of 10,000 feet
The trail rises up the steep canyon sides with a view of a closed Tungsten mine far down below.
Pumping water was a group activity as was sitting around the fire. Lots of wood for fires.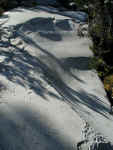 The area was heavily glaciated and the mountains reflected the sunlight late in the afternoon.
The camp area has glacial polished rocks all around. The rock shown here was polished
several times as the different curves on the rock show.
The lakes dominate the scenary. The camp was 100 yards from Lower Pine Lake, which is 16 acres in size. The mountains rise directly out of the lake on two sides. This lake basin, called a cirque, was carved by a glacier.
Fishing was a popular pastime. Cooking and eating the rainbow and brook trout proved a nice end to the day.
Taking day hikes was also popular. The hike to Upper Pine Lake, Honeymoon Lake, and Granite Park was done on Saturday. On Sunday, Lake Birhem was visited, with a large mushroom discovered on the hillside.
The 4 days went by quickly and the 4.7 mile hike out was all down hill.
Pine Creek provided a backdrop for the hikers. A pipe from a spring
and an abandoned mine were also stopping points.