2002 Misadventure at the Circle Bar B Ranch
The 2002 Hermosa misadventurers was held at the Circle Bar B ranch, (Ranch Web Page) 20 miles west of Santa Barbara in early June.
A pre-party was held at the Sheldon residence on Thursday nite.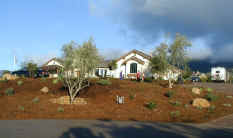 ---
The activities are shown on the ranch page. There are new pictures contributed by Jim R here (They are the last seven)
---
The Ode to old people was submitted by John H. John H also has some pictures that can be viewed at http://beachbum73.tripod.com/misad02/ click back to return here.