Tonopah is a mining town in south central Nevada. Gold was discovered here in 1900 and a town quickly sprang up. For 20 years the town had at least 3000 inhabitants. The rich gold ore gradually was mined and only lesser ore remained. This kept the town alive as waves of mines were worked through the second world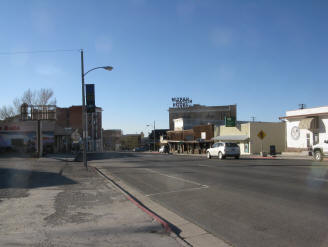 war. Finally, the mines closed but left the mining buildings intact. The population in 2000 was 2500. The US government established a test base where F117s were based. This dept the town alive a little longer. The government moved the planes in 1989 and the town started downhill. Now empty store and houses remain. The town has 5 or more motels, 3 restaurants, 4 gas stations. The town now relies on tourism and people stopping on the way from Reno to Las Vegas. It had snowed 2 days before we arrived in early April, but the days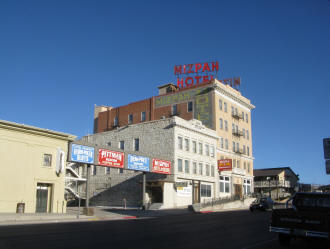 we were there it was in the middle sixties. We explored the town and the surrounding area for mines and ghost towns. The pictures show the main street, which is US95 and 6, the Mizpah hotel , and a mural.
The Mizpah hotel was for sale in 2006 for $1.6M and it was sold at auction in 2009 for $0.5M. It is a grand hotel which needs work and even comes with it's own mine shaft under the hotel. For more information go to http://www.tonopahnevada.com/
The first day we visited Downieville, Berlin, and Grantsville.
The Second day we visited Reveille mill, Tybo, and AB mines.
For more pictures click on the links at the left. Notes