The Sofrankos (Sr)
Barbara and Michael Sofranko, Jr. , Elaine and George Cameli, Joan and Myron Kucharski
1. Kevin Keith ( Maine's husband) 2. Christopher Keith (Maine's 1st) 3. George Cameli 4. Craig Scanland (Sue's 1st)
5. John Scanland (Sue's Husband) 6. Brian Keith (Maine's 2nd) 7. Maine Keith 8. Elaine Cameli 9. Sandy Cameli 10. Sue Cameli
11. Tyler Keith (Maine's 3rd) 12.Michael Sofranko, Sr 13. Karen Stroney 14. Brendan Scanland (Sue's second)

The Michael Sofranko (Jr) Family
(standing) Michael Sofranko, Jr. , Joseph Sofranko, Justine Estelle, Kerri Connor, Barbara Sofranko, Dave Sofranko
(seated) Michael Sofranko, Sr.

The John Weiss Family
1. Dylan Borden  2. Don Borden (Maureen's husband) 3. Seth Borden 4. Maureen Borden (John Weiss' Daughter) 5. John Weiss Jr. 6. Connor Borden 
7. Cheryl Wilkie (John Weiss' wife) 8. Lilette Weiss 9. Michelle Happe (Marc Weiss' girlfriend) 10. Marc Weiss 11. Shane Happe (Michelle's son)
12. Jackie Weiss 13. Joe Weiss  14. Mike Caballero (Jackie Weiss' Fiance)
NOT IN PHOTO:
 Sheila Kiechlin (John Weiss' daughter), Brian Kiechlin (Sheila's husband), Alexis Kiechlin, Paige Kiechlin, Jack Kiechlin

The George Barbolish Family
The George Barbolish Crew: L to R
Michael Dutkiewicz, Art Davis, Mikayla Dutkiewicz, Debbie Davis, Artie Davis, Krista Davis.
In front: Julianna Rinaldi, Emily Rinaldi, Dominick Rinaldi, Jennifer Dutkiewicz, Patti Rinaldi, Kelly Barbolish.
The Edward Barbolish Family
(L to R) Timm, Kevin, Leighann, Marian (standing), Timm Jr., Pia, Richard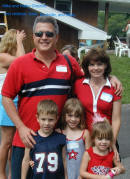 The Michael Chezick Family
Mike, Kathy, Josh, Rochelle, & Nicky